Discover more from Aliette de Bodard newsletter
Semi-hemi-regular newsletter of writer Aliette de Bodard, with information on new releases, behind-the-scenes snippets, and more
Over 1,000 subscribers
Aliette de Bodard August newsletter
Cover reveal, free short story and more
Some housekeeping
This newsletter migrated from Mailchimp to Substack: hopefully this was seamless for you. My biggest worry is subscribers who didn't receive the newsletter, but if you've been signed up in error you can unsubscribe at the bottom of this email.
This is just a back-end change: the newsletter itself will remain unchanged and there'll still be the content you're used to! If you want to be sure to receive future newsletters from me, you might want to add this email address to your list of safe senders (a reminder I don't spam: these emails are sporadic, contain new releases, news on upcoming projects, exclusive information and exclusive bonuses).
Of Wars, and Memories, and Starlight UK edition!
A number of people have been asking about the UK edition of Of Wars, and Memories, and Starlight, my collection of short stories originally published by Subterranean. I'm very pleased to announce that there will be a UK book edition, and to reveal the cover: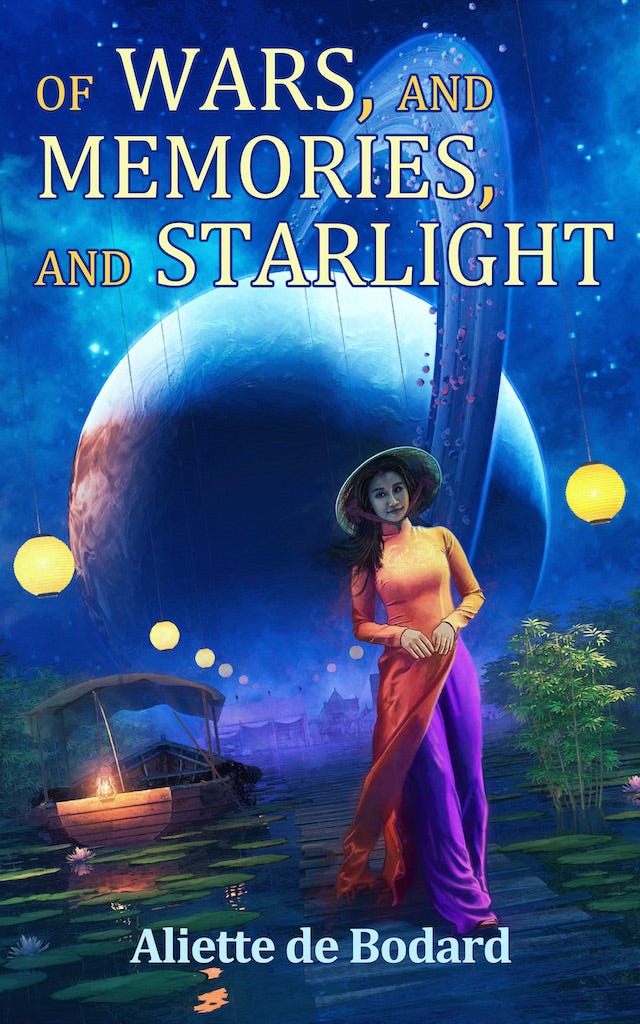 Isn't it amazing? Art and design by Dirk Berger. The book will publish September 30th. The contents are the same as the Subterranean edition: this is just an e-version available outside the UK. There will also be a print edition which publishes on the same date: as usual, the links to that will be available closer to release.
You can preorder a copy right now! Amazon UK | Amazon FR | Apple | Kobo
If you're in North America: ebook available now from Subterranean Press
Official cover copy:
A stunning and vibrant collection from a rising star of the genre.

This collection of fourteen tales showcase the range and talent that garnered Aliette de Bodard multiple awards, from Nebulas to the Locus Award. From a dark Gothic Paris devastated by a magical war, where Fallen angels, dragons and magicians intrigue in the drawing rooms of ruined mansions; to the Vietnamese-tinged space opera universe of Xuya, where sentient spaceships become the heart and living memory of families and scholar-officials travel from planets to space stations.

In the Nebula award and Locus award winning "Immersion", two women on a colonised space station grapple with loss of identity and culture. In the Hugo finalist "Children of Thorns, Children of Water", a shapeshifting dragon on an infiltration mission to a ruined mansion must rescue his partner from creepy, child-like creatures. And in "A Salvaging of Ghosts," a diver-scavenger cast off into deep spaces faces a dying midship and the ghost of her daughter. Unique to this collection is a new novella, "Of Birthdays, and Fungus, and Kindness", set in Bodard's alternative dark Paris.

Praise for Of Wars, and Memories, and Starlight:
"This stunning collection showcases de Bodard's lush worldbuilding, meticulous research, and emotional prose." —Library Journal (starred review)
"De Bodard (The House of Shattered Wings, 2015) proves, again and again, that space opera can be intensely personal against its galactic backdrop…. The collection covers the consequences of war, survival in colonial culture, motherhood, mindships and space-travel, and aspects of grief." —Booklist
Buy links: Amazon UK | Amazon FR | Apple | Kobo
If you're in North America: Subterranean Press
Free novelette: The Inaccessibility of Heaven
My novelette "The Inaccessibility of Heaven" is now free to read in Uncanny Magazine: a noir story of Fallen angels, witches and a killer on the prowl in an alternate modern day metropolis.
The rest of the issue has work by the likes of Chinelo Onwualu, Mari Ness, P. Djèlí Clark, and a new editorial column by the fabulous Elsa Sjunneson. You can check it out here!
Updates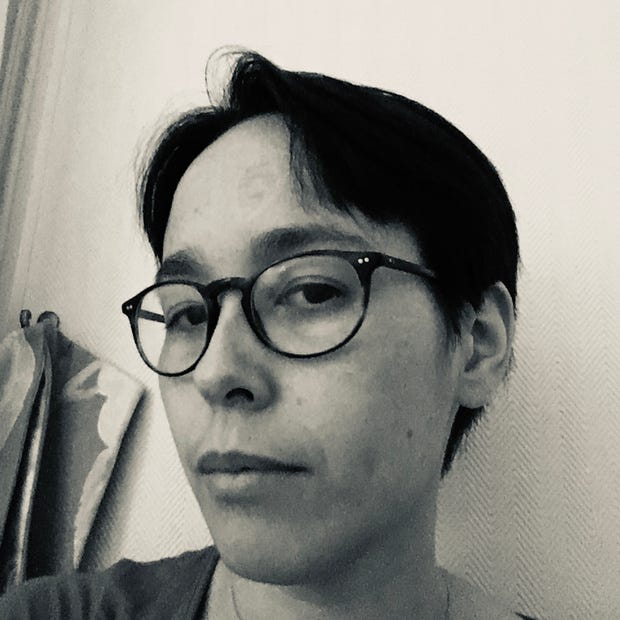 It's been a very quiet month over here because of the holidays, but I did get a pandemic haircut! I finally went to the hairdressers and asked if all the hair I'd accumulated since December could all be cut off. It was a rather impressive mass of hair (there had been a midway through lockdown haircut but it involved family), and I now feel 150% better (short hair is best). 
Paris at the tail end of July/August is an experience in and of itself, with shops closed for holidays, people away on various travels, and it feels in many ways like a weird ghost town. (I actually love having some quiet so I don't mind). 
I've been working on my queer space pirates novella, chipping away at plot and worlbuilding. Because I'm me, it involved a whole new setting--I've been consulting on celestial mechanics, geopolitics, and generally trying to project the South China politics pirates into space. And because I have a good sense of irony, I now have the twin habitats of Founding Harmony and Calm Destiny facing each other across one of the most bitterly contested borders between two galactic empires (talk about aspirational naming!).  
I'm working my way through the copyedits for Fireheart Tiger--and all the preorder links went live on the Macmillan website, if you're interested!
I read Rebecca Roanhorse's upcoming Black Sun, which was amazing in all the best ways: crunchy worldbuilding, smart political intrigues and creepy set pieces--and a plot about revenge and power and a conjunction of magics. I highly recommend you preorder it if you're interested in epic fantasy. 
Last month marked the release of Kate Elliott's Unconquerable Sun, a retelling of Alexander the Great as a space opera, with the Alexander figure a prickly, ambitious and charismatic young woman. It's a book I devoured in draft form and found even better in ARC: textured, rich, imaginative and taking its readers to faraway places without ever losing sight of the people involved. 
(disclaimer: Kate is a friend, as is evidenced by my access to the early draft). 
Recipe: dairy-free French pancakes
(originally published on my patreon: if you want the recipes ahead of the newsletter feel free to check it out)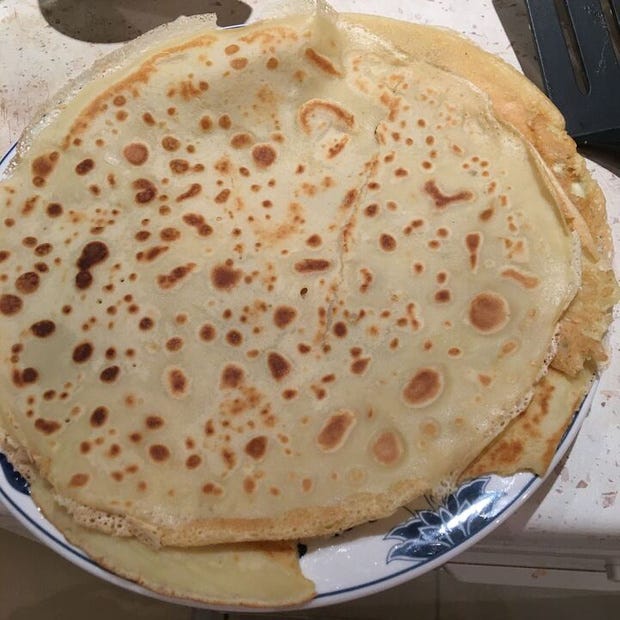 These are a mainstay of French cuisine: in Paris there are those little counter where you can buy one, and I used to munch on one of these once per week on my way back to school. The way it melted in the mouth with the butter and sugar... yum. 
This isn't quite those pancakes: they're dairy-free, which means no lactose, among other things. The pan I use is a a carbon steel pancake pan (this is what gives them those crispy edges), but you can make these in a non stick pan. I haven't tried cast iron--if anyone feels like experimenting and wants to let me know how it went, please do!
Ingredients
250g flour
500mL water
1 tablespoon rum or 1 tsp vanilla extract or 1 tablespoon vanilla rum(*)
3 eggs
3 tablespoons sugar
2 tablespoons oil (a neutral oil like sunflower or canola)
Mix everything together (be careful about lumps in the flour). Leave to rest at room temperature for 20mins-1hour, then mix again (it'll probably separate during its resting time. That's ok!). It should be mostly liquid but not watery.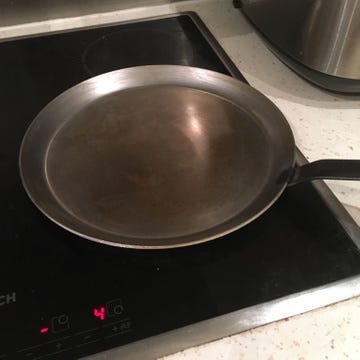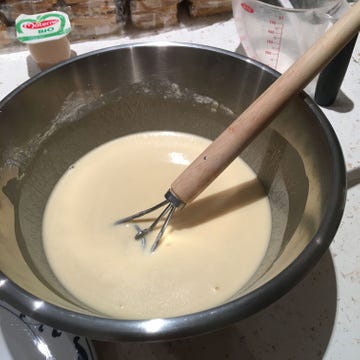 When ready to start, set aside: a small bowl filled with oil and a paper napkin folded into a small square, a thin spatula, a ladle, and a large empty plate (this last is for piling the pancakes). Heat up a frying pan/pancake pan on medium heat. When a drop of water on the surface evaporates in 2s, you're ready to go.
Oil the pan. Then ladle the pancake mixture into a thinnish layer on the pan. Swirl it until it's sort of even (this takes a bit bit of practise). Cook it on one side for 3min: it will start forming bubbles and lifting a teensy bit from the pan. Use the spatula to flip it: this also requires a little practise. If you're feeling adventurous or you have young children you can also flip it by bringing the whole pan upwards and essentially throwing it into the air (I don't necessarily recommend, as this is how I got a lot of pancakes on the floor as a child). Cook for about 1-2 mins: the underside should have a series of brown circles. Then get it off the pan and onto the plate. 
Oil the pan again, repeat until you run out of dough. 
Put the topping of your choice on the pancake, roll it up or fold it into quarters (I'm a proponent of the second method), and enjoy!
A quick postscript that the main pancake success factor is practise,. The recipe isn't super hard, and it's very tolerant of a lot of things, but getting them thin enough (**), not breaking them as you flip them, etc etc. requires a little bit of a deft touch. And I say this as a serial maker of REALLY thick pancakes. I'll also say that  the thick misshapen ones are still very delicious :p
(*) To make vanilla rum, put a bunch of vanilla beans in a bottle of rum, leave to rest for at least six weeks, occasionally shaking. The vanilla will basically infuse the rum. Don't forget to occasionally top it up after taking from it, and also to (very infrequently) put other vanilla beans to replenish the flavour. As a data point I've been cooking regularly from the same vanilla beans for close to 18 months now. 
(**)Your thickness preference may vary, but French style pancakes are meant to be much thinner than, say, North American style pancakes. 
Events
All my in-person events are cancelled because of coronavirus, but I'll be at Reconvene on August 15th, 4pm EST, talking Worldblending in Speculative Fiction with Cerece Rennie Murphy, P. Djèlí Clark, Dr. Carlos Hernandez and Ellen Kushner.
Full event schedule here.